Olney Plumbing Toilet and Fixture Installation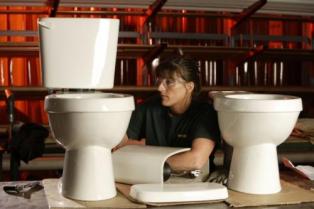 No doubt about it, we rely on our toilets and other plumbing fixtures every day. It might surprise you to learn that -
• The average person will visit the toilet 6-8 times per day. That's 2,500 visits per year.
• Toilets are responsible for about one third of the total water used in the average household – more than any other appliance including washing machines, tubs and dishwashers.
• The National Energy Policy Act took firm action in 1995 against water-guzzling toilets. Low flow toilets using no more than 1.6 gallons per flush are now required.
• Faucet aerators and showerheads with multiple flow settings can have a direct impact on your water bill.

Low flow toilets and other water-saving devices are more complicated than you might think. There are a number of low flow toilets on the market today – some better than others. The physics used and design of these toilets vary greatly. Some use compressed air, some use vacuum pumps. Others have large drain passages and uniquely designed bowls. Toilet installation requires special tools and a firm understanding of the plumbing structure of your home.
How We Save Money
The good news is you do not have to become an expert in toilets. Olney plumbers have made it their business to keep up to date on all aspects of toilet and fixture installation. You benefit from our knowledge by getting the best products on the market. You further benefit with properly installed toilets and fixtures that will last many years with no surprises. Finally, your water bill will reflect a decrease month after month. Water that would otherwise be wasted can be conserved. Why let money literally go down the drain when there are simple solutions available?

Your toilet is not the only appliance that needs attention. Other fixtures such as sinks, faucets, tubs and showers also need to be periodically inspected by a professional plumber.

Call Olney Plumbing today for an evaluation of your toilets and fixtures. We will carefully inspect each of them, report on how they are currently functioning, identify any leaks, and recommend alternatives that make sense.